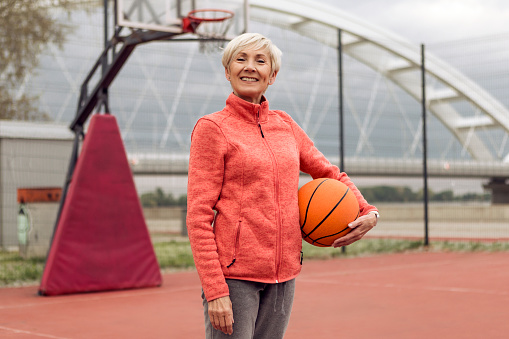 Perennial Women: Pay Court to an Attractive and Healthy Body from Home
"Yoga is invigoration in relaxation. Freedom in routine. Confidence through self-control. The energy within and energy without."—Seattle Yoga News
Some of the best basketball players in the NBA today are the biggest proponents of using Yoga to improve the game.
LeBron James, Shaquille O'Neil, Kareem Abdul-Jabbar, Kevin Love, and Blake Griffin, are a few of the NBA stars that love Yoga.
Players in the Women's National Basketball Association (WNBA) also use Yoga's fluidity to recharge their energy.
Imagine—a merger of basketball and Yoga.
Who would have thought?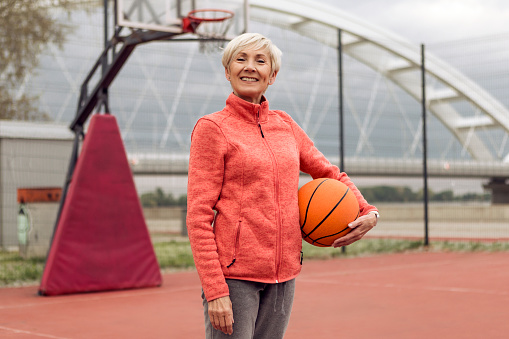 Yet, it's true!
Whether you're 25 or 70, men and women who want to gain mastery over their health and vitality turn to basketball and Yoga.
 You'll find numerous YouTube videos demonstrating Yoga for basketball players.
Why?
 Health Benefits of Basketball
Basketball is a fun sport that adults of all ages can enjoy, and the health benefits are many:
Burn calories (weight management)
Build endurance and increase energy levels
Improve balance, coordination, and agility
Develop concentration and self-discipline
Build up muscle tone and strength
Getting your heart rate up and using all major muscle groups during basketball drills offers a perfect fitness combination.
When you practice your favorite moves for basketball players during your exercise routine, your brain releases "feel good" hormones, such as dopamine and endorphins, and improves stress.
A Yoga Story From the WNBA
Have you heard of Bridget Pettis, retired Assistant Coach for the Women's National Basketball Association (WNBA) team Chicago Sky?
Nor had I before researching this article.
Pettis is a native of East Chicago and Indiana Basketball Hall of Fame member that said of her role in sports history, "It was humbling to be part of the beginning of the WNBA and helping make it the greatest stage for women's professional basketball."
Bridget Pettis played in eight WNBA seasons, was a Mercury Assistant Coach from 2006-2009, and Director of Basketball Operations from 2010-2013.
Pettis expressed that though she experienced many successes during her career, in 2008, she "experienced a 'disconnection' within herself as she struggled to make sense of life."
It was during this time of detachment that she discovered Yoga.
Pettis found Yoga as a way to "translate her anxiety to calm and stillness."
Bridget Pettis found her peace.
She credits her training as a WNBA player and Ashtanga yogi as preparation for the stage in her career as an Assistant Coach, which shaped her life.
For Coach Pettis, there is no separating the two worlds of basketball and Yoga.
Pettis retired from the WNBA in 2019.
Combine Yoga Moves with Basketball
 Combine basketball drills and Yoga moves to give you a lean, flexible, heart-healthy, and super-fit body.
Yoga is the Sanskrit word for union.
Yoga is both spiritual and physical.
Yoga uses breathing techniques, exercises, and meditation to help improve health and happiness.
A person doing Yoga will move from one posture to another.
Although not considered aerobic exercise, some research finds it can be just as good as aerobic exercise for improving health.
7 Top Benefits of Restorative (Gentle) Yoga
Reduces stress
Improves quality of life
Promotes sleep quality
Introduces positivity
Improves flexibility
Reduces chronic pain
Fights depression
Practice Basketball at Home
You don't need a gym or a wide-open space to practice basketball drills.
You can do great basketball drills at Home in your driveway or garage.
You can even do drills from inside your house.
Examples:
Tip drill
Around the World
Figure eight
Goblet squat
Front-lunge pass
Side-to-side twists
Sit-up to toes
 Yoga to Lose Weight
Active, intense Yoga styles help you burn the most calories, which may help prevent weight gain.
The "Big Three" for Weight Loss:
Ashtanga
Bikram
Vinyasa
These Big Three "power" Yoga styles are challenging and intense; energetic, synchronizing breath with movements.
While restorative or gentle Yoga isn't an exceedingly physical type of Yoga, it still helps in weight loss.
One study found that restorative Yoga effectively helped overweight women lose weight, including abdominal fat.
Ordinary health-conscious women of all ages are amazed at the positive overall results on their physical and mental well-being when they use basketball and Yoga.
Sixty-three-year-old Sara K. couldn't believe how combining basketball and Yoga helped her have more energy after a long day at the office:
"My usual routine after arriving home from work was to flop in the lounge chair and put my feet up. I wanted to put a sign on my chest that read, 'Do Not Disturb.' But now, I grab my basketball after changing clothes, sprint to the driveway, and practice dribbling for about 30 minutes. Me! At my age!! But I've never had so much fun! After my basketball 'workout,' I get my Yoga mat. I can target all of the areas I just used and stretch all of the muscles I just worked out—this aids in bringing my heart rate back down. Then, I shower and am ready for dinner. I feel relaxed but not tired. I have so much energy that I usually spend another two or three hours at my computer before bed. And I feel great!"
Barbara H. is also having a blast with basketball and Yoga:
"To say my job is stressful is an understatement. As a woman and newly appointed V.P., I get it from all sides. I have to put in the requisite 60-hour workweek and manage a household with a husband and three kids. How do you spell e-x-h-a-u-s-t-i-o-n?! Enter basketball. This everyday routine has been a lifesaver—literally. My family's pattern of practicing basketball drills offers something for my entire family. My husband, the kids, and I do basketball drills and practice hoops in the driveway. And because I'm such a good sport, from time to time, my husband (but not the kids!) joins me on the Yoga mat! How cool is that? Now we have something the entire family can enjoy. And I get to do something that energizes me at the end of an exhausting day and supports me mentally. I feel good!"
If you're looking for fast, easy, and lasting ways to improve your health, Ladies, join the Yoga-hybrid fitness craze.
Combine the benefits of basketball drills and Yoga moves to help you build excellent strength, flexibility, and overall health.
Don't put off your decision to have a healthy mind and body one more day!!
Why not start today?!
"Yoga is the fountain of youth. You're only as young as your spine is flexible."—Bob Harper